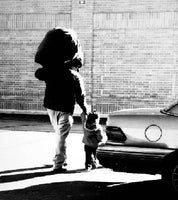 About Us
"If you have a voice, use it; If you see injustice, tell it" -Toni Payne
When I created Tinfoil, I was frustrated with the lack of companies who stood for the people. Frustrated that a "logo" on a shirt cost $200, targeted to an audience that couldn't afford it. Targeted to an audience that are constant victims of injustice due to socio-economic issues. It didn't make sense.
So I decided to create products drawing off the beauty of everyday people and the everyday struggle.
I hope you find the designs thought provoking, and action inspiring. At the very least you will find them to be affordable.
Substance > Logos
A portion of the proceeds from each sale supports local charities in the Chicago area. 
Our Products
All of our products are created upon customer demand. Our production partners are conveniently located on both coasts and generally take 3-5 business days to produce the product.
We use the Direct To Garment printing method for all of our products except for hats which are embroidered. Our choice of shirt brand is Bella Canvas Unisex which provides a softer feel and true fit. All of our designs are available from baby onesies to adult hoody's. If you don't see what you want, just let us know,  and we'll work on getting you what you need.
We fully stand by our products and your satisfaction. If for any reason you are not satisfied with your purchase, you may process a return within 15 days for a full refund. 
Contact Us
Email: info@tinfoilbrand.com
Follow Us:
Facebook: Tinfoil Brand
Instagram: @tinfoilchicago
Twitter: @TinfoilChicago